Hutch-Tech going high tech
---
But $25 million renovation project, forcing 2-year relocation, will disrupt young lives

By PETER SIMON
Buffalo News Staff Reporter
6/27/2005
Gary Smith, who graduated from Buffalo's Hutchinson-Central Technical High School in 1979, was taken aback when he returned 18 years later as a prospective parent.
"Nothing had changed," Smith said.
Now everything is about to change at the school noted for its engineering programs, regionwide reputation, award-winning jazz bands and deep sense of history and tradition.
Hutch-Tech will close this summer for two years while a $25 million to $30 million renovation project essentially guts the building and transforms it into a modern center for instruction in science and math. While the work is proceeding, Tech and its 1,200 students will be temporarily relocated at the former Kensington High School.
Hutch-Tech, just blocks from City Hall at 256 S. Elmwood Ave., is not alone.
About a dozen city schools - 20 percent of Buffalo's public school buildings - face major changes next school year as a result of the district's $1 billion renovation and building plan, and a downsizing initiative driven by declining enrollment.
Some of the dozen buildings - like Hutch-Tech - will close while renovation work is done. Others will operate at reduced capacity, serve as the temporary home for other schools or close permanently.
When Hutch-Tech's plan to relocate to Kensington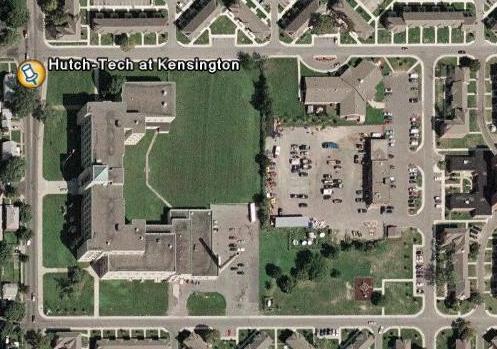 La sede provvisoria dell'Hutch Tech
(Clicca la foto per ingrandirla)

was announced earlier this school year, students and parents expressed deep and sometimes angry concerns about safety, transportation, continuity and the ability to transfer classroom programs and equipment across town.

The school district responded with an extensive transition plan, and the Hutch-Tech community is largely rallying around it.

"They came up with a great plan," said Sheldon Shapiro, the parent of a Hutch-Tech student. "To the school district's credit, they've come a long way."

These are the key components:
An intricate transportation system - including the use of yellow school buses, shuttle buses from Metro Rail's Amherst station and beefed up Metro Bus transportation - to get students to and from Kensington, which is much less accessible at 319 Suffolk Ave.
The school's full-time security staff will be increased from two to either three or four, and cameras will be installed at Kensington's doors. "I think the big concern is crime around the school," said Smith, president of the school's Parent Teacher Organization.
David M. Greco, principal at Hutch-Tech for the last 10 years, scrapped plans to retire - and passed up a $25,000 early retirement incentive - to lead the school through the transition.
"In a nutshell, it's the kids." Greco said. "It's the tradition. I want to get us back to 256 South Elmwood Ave."
The location will change, but Hutch-Tech's staff will remain intact. The school is being referred to as "Hutch-Tech at Kensington," and Kensington's green and gold will be painted over with maroon and white, the Hutch-Tech colors.
"You're not coming to Kensington - you're coming to Hutch-Tech," said Kenneth Boudreau, who has taught physics at Tech for 27 years. "We are who we are."
Hutch-Tech - initially Hutchinson-Central High School - opened on South Elmwood in 1914, and two years is a relatively short time in that context. At the same time, two years represents half of a student's high school career.
Jeffrey Bruce, a biochemistry major, spent the last two years at Hutch-Tech but won't return as a student once he walks out the door later this month. "We're sophomores, but we feel like we're leaving here forever," he said.
Stephanie Mongielo, also a sophomore, said Hutch-Tech's central location on the edge of downtown is deeply ingrained in the school's character.
"When we're walking down the street, people say: "Oh, there's a Tech kid,' " she said. "They respect us, and we respect them."
Jeffrey feels the same sense of dislocation.
"This is taking people out of their security zones," he said. "We're all used to being here."
But Hutch-Tech students, teachers and parents have largely turned their concerns and fears into resolve and optimism.
They look forward to compact, computerized equipment; spacious, up-to-date science labs; a new gym; and a facility that will allow them to build on their reputation for excellence.
"It's time to upgrade, and this is the perfect opportunity," said John Augustyniak, a teacher and vocational technical coordinator. "It's going to be a joy to come back here."